Living Information
The currency of Japan is the "Yen" (JPY). There are many stores that accept credit cards but cash payment is the most common in Japan.
硬貨・・・500円、100円、50円、10円、5円、1円の6種類。 6 types of hard currency/coins: 500 yen, 100 yen, 50 yen, 10 yen, 5 yen, 1 yen.
6 kinds of coins · · · 500 yen, 100 yen, 50 yen, 10 yen, 5 yen, 1 yen.
Paper money / bills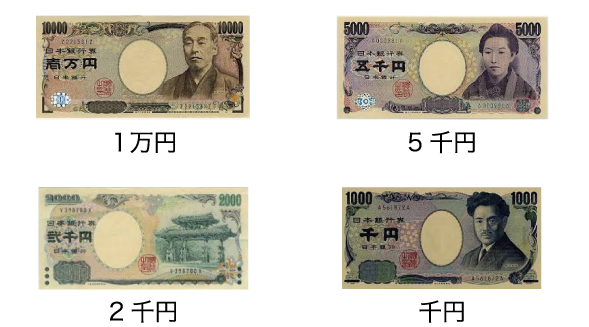 currency / coins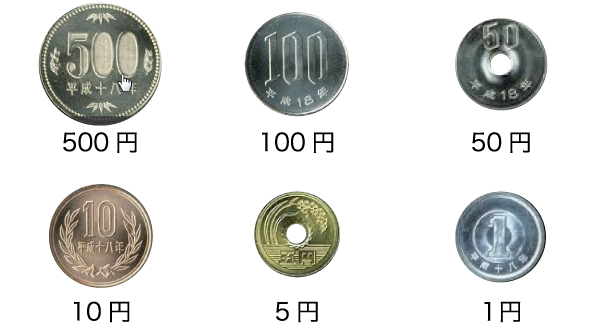 The climate of Japan with high humidity
There are four seasons in Japan: spring, summer, autumn, and winter. The average temperature in Tokyo is as below. (by month).
January
February
March
April
May
June
July
August
September
October
November
December
Maximum Temperature

(℃)

9.6
10.4
13.6
19.0
22.9
25.5
29.2
30.8
26.9
21.5
16.3
11.9
Average temperature

(℃)

5.2
5.7
8.7
13.9
18.2
21.4
25.0
26.4
22.8
17.5
12.1
7.6
Minimum Temperature

(℃)

0.9
1.7
4.4
9.4
14.0
18.0
21.8
23.0
19.7
14.2
8.3
3.5
Rain

(㎜)

52.3
56.1
117.5
124.5
137.8
167.7
153.5
168.2
209.9
197.8
92.5
51.0
Example prices of necessities while living in Japan.
■ Potatoes (1 kg) 402 JPY
■ Onion (1kg) 236 JPY
■ Banana (1kg) 256 JPY
■ Rice (5kg) 2112 JPY
■ Milk (1L) 223 JPY
■ Eggs (10 per pack) 242 JPY
■ Soy sauce (1L) 244 JPY
■ Mayonnaise (450g) 260 JPY
■ Tissue 160 sheets, 1 box, 237 JPY
■ Toothpaste 167 JPY
※Reference Tokyo Statistics, February 2017, Tokyo Metropolitan Ward Consumer Price Index
In Japan, schools and public offices are closed on Saturdays, Sundays, and public holidays. The same for financial institutions.
Holidays for medical institutions vary by facility. It is important to get information of holidays at hospitals and clinics for a sudden illness or injury.
| Date | Traditional Events | Description |
| --- | --- | --- |
| January 1st | New Year's Day | Celebrating the start of the new year. |
| Second Monday in January | Adulthood Day | Celebrate to become mature and humble as an adult. |
| Day specified by Cabinet Order | Foundation Day | Remembering the foundation of the country and cultivating love for the country. |
| Vernal Equinox | Vernal Equinox | Enjoy nature and care for all of its living things. |
| April 29th | Showa Day | After having endured turbulent days, look back at the reconstruction of the country during the Showa period and think about the future of the country. |
| May 3rd | Constitution Memorial Day | A holiday to celebrate the enforcement of the Constitution of Japan and expect the country grow. |
| May 4th | Green Day | We appreciate the benefits of nature and enjoy its beauty. |
| May 5 | Children's Day | A holiday to celebrate for kids to grow up healthy and wish happiness, as well as thank mothers for their effort. |
| Third Monday of July | Sea Day | Appreciate the benefits of the ocean and hope for the prosperity of the oceans of Japan. |
| August 11th | Mountain Day | To get the chance to close to the mountains and thank the nature for its benefits. |
| Third Monday of September | Respect for the Aged Day | Honor the elderly people who have served to society and celebrate longevity. |
| Autumnal Equinox | Autumnal Equinox | Honor ancestors and remember those who are no longer with us. |
| Second Monday of October | Health and Sports Day | Enjou yourself doing some sports and keep your body and mind healthy. |
| November 3rd | Culture Day | A holiday to celebrate freedom and peace and its culture. |
| November 23rd | Labor Thanksgiving Day | Celebrate production from hard work, and give thanks to all of the people of the country. |
■ Trains and buses that run on time properly.

In Tokyo, public transportation such as trains and busses are highly developed and operate from early morning to late at night on a fixed time schedule.
In order to use public transportation, you will need to purchase a ticket at a ticket vending machine, or use IC charge cards such as PASMO or SUICA which deduct the fare as you use it. IC cards are convenient because they can be used throughout the entire country.

■ Easy transportation : Bicycle

Bicycles are handy and convenient for transportation that anyone can use, but if you go out on the road, you must be careful by rules such as no two-seaters, traffic signals at night, obligation to temporarily stop at signs and intersections, etc., it will not only result in violation of the Road Traffic Act but also lead to accidents, and can be extremely dangerous. Follow the road rules, pay attention to pedestrians, and ride safely.
■ Automatic bank withdrawl is convenient for the payment for public utilities.

When you live alone, you must pay public utility fees such as utility bills (electricity, gas, water bills), telephone bills, and others. The payment method mainly includes bank account transfer, credit card payment, cash payment at a convenience store, etc. Once you register for direct debit or credit card payment, it is convenient to make automatic payments every month. In the case of making payment at a convenience store, you can pay at the cash register by taking the payment transfer paper that is sent to you in the mail.
When you live in the dormitory, monthly utilities are included in the dorm fees and you do not need to pay individually.
■ There are strict rules for disposing of trash.

How to dispose garbage varies depending on each municipality, but in every area, there are rules regarding where and when (date and time) you can dispose of garbage.
Put your garbage in designated bags and take it out to the designated spot in the morning of collection day. Beware - if you do not dispose of garbage in the designated bag or late for the pick up time, it will not be collected.
The rules regarding garbage disposal is strict in Japan. It is important to follow the appropriate rules to avoid any trouble.
■ Things you shoud do under disasters.

A disaster could occur anytime
To be able to act calmly without panic in emergency, you should prepare for it in advance. It is necessary to discuss with people around you, what you should do when it happens.

■ Emergency Contact Information / Phone Number

The following phone numbers will be necessary during an emergency. Write them down and remember them.


:110 (No station number)

:119 (No Station Number)

* When you report, be calm and inform personnel of your name, address, and surrounding landmarks.
Preparing for an earthquake
There are many earthquakes in Japan. thought the municipalities make safety standards in order to secure a certain level of safety, there are possibilities the stronger earthquakes might be occure since we have experienced the Great East Japan Earthquake on March 11, 2011.
Preparation for the didaster is important, let's keep it in mind in our daily lives.
Preparation
Keep passports and other important items in one place.
Know evacuation routes posted at school.
Know evacuation routes posted in dorms.
Know evacuation facilities in the surrounding areas.
Do not leave large items in evacuation routes that may get in the way.
If possible, be prepared with food, flashlights, water, etc. in advance.
When earthquake occur,
Do not panic. Act calmly.
Open windows and doors and secure an escape route.
Protect yourself and wait until the earthquake stops.
Stay away from large furniture or near windows.
When you go outside, be careful of falling objects.