Further Education / Employment

Career guidance for each student
At Joto Japanese School, we offer professional educational guidance for each student. We take responsibility for student's future as well as their Japanese language skill.
---
Attentive Guidance Regarding Further Education
The academic guidance are held from May to June. In July, we invite major universities to our School and have briefing sessions for admission.
In August we hold supplementary lessons based on the needs of the students who are planning for academic advancement.
At Joto Japanese School, classes are not divided between those who are looking to advance to graduate schools or universities, etc. Instead, we offer individual guidance which suits for each student.
Content of Instruction
Examples of graduate school applicants

Selection of Research Topics
Guidance for each specific fields
Guidance and Navigation of research project reports
Providing necessary documents
Guidance on interviews
Guidance on specific field examinations

Examples of university applicants

Meeting regarding specialty fields
How to Apply for Admission
Guidance for preparing an application for admission
Guidance and correction of applicant's statement of purpose
Practice with past exam questions, and guidance on essay writing
Explanation of current topics and issues
Guidance and practice for how to pass interviews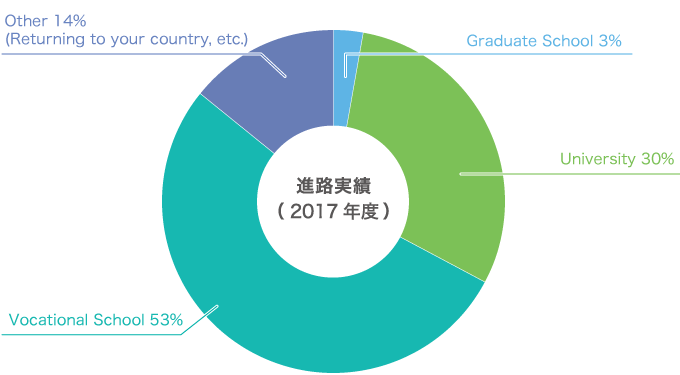 Graduate school

Yokohama National University
Saitama University
Keio University
Nihon University

University

Obirin University
Teikyo University
Tokai University
Toyo University
Musashino University
Ryutsu Keizai University
Wako University and others

Vocational School

Arts College Yokohama
Azuma Technical College
Gregg Foreign Language College
Sundai Foreign Language & Business College
Vocational school Hiko · Mizuno jewelry college
Tokyo International Business College
Tokyo Automobile Univeristy,  Other
Nippon Express College
Fuji International Business College
Meisei Institute of Cybernetics
Yomiuri Car College
Waseda International Business College
Guidance for Examination for Japanese University Admission for International Students (EJU)
We offer preparation lessons for the Examination for Japanese University Admission for International Students (EJU) which is held in June and November, using examples from past exams and conducting simulation tests. Instruction is given on vocabulary, grammar, reading comprehension, and listening comprehension.
Guidance on Japanese Language Proficiency Test
We offer preparation lessons for the Japanese Language Proficiency Test which is held in July and December, using examples from past exams and solving similar questions.